For parents of kids dealing with the difficulties of autistic spectrum disorders, meeting the unique challenges these children can face on a daily basis isn't always easy. Fortunately, smart phones and tablets can make great assistive tools for helping families with ASD children better manage their day to day lives, offering a range of helpful apps that can aid kids with ASD in a variety of fun and unique ways.
From learning basic differential skills and how to read expressions, to helping children with autism spectrum disorders clearly express their thoughts, concerns, needs, or desires — the list of apps below offer innovative ways to help children with autism overcome their challenges.
AUTISM AND ASSISTIVE TECHNOLOGY:
This augmentative and alternative communication (AAC) app has users build statements using the touch screen, as they click images to sequence together words and form ideas. Children start by choosing basic questions or opening statements, like "I feel," "I want to go," or "I want to eat," and can refine the dialogue by adding in specific details.
TouchChat HD provides images and symbols that depict common emotions, requests, and responses, which can be arranged in different ways for easier access. Users can also type in custom text to be read aloud by the app. A unique feature lets users type and then tilt the screen to enlarge the letters, so that communication is possible silently or in a noisy environment.
Words on Wheels features 50 pre-loaded images representing common words, while providing empty slots for users to add their own words as well. Using the iPad's built-in camera and microphone, parents can customize the app for their child's specific needs by adding pictures and recording the words they represent.
Avaz allows users to type custom words and sentences through use of the app's keyboard and text-to-voice functions. To start, vocabulary lists come in four "difficulties." Users may select their words from "quick," "getting started," "basic," or "advanced." By stringing a number of pictures and custom words together, users can construct sentences which the app will read aloud on demand.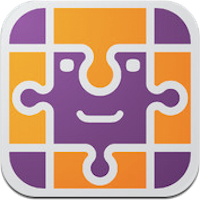 AutisMate is a unique AAC app that allows the creation and tagging of real-world "Scenes." Users can take pictures of surrounding environments and tag "hotspots," which, when pressed, open a menu containing common phrases associated with the area. Users can even create "visual schedules" comprised of images representing daily tasks and routines, shown in chronological steps.
OTHER GREAT APPS FOR ASD:
BITSBOARD
This app features flashcards, matching games, and visual multiple choice games across a wide range of subjects. For children who struggle with identifying non-verbal communications such as facial expressions, Bitsboard features mini-games designed to help users identify emotions in their peers, and users can create their own custom "boards" to review other social and communicative actions.
SMURKS
Smurks is designed to help users express thoughts, opinions, and emotions in digital communications via the use of pre-loaded cartoon facial expressions. The app comes with over 350 unique facial expressions encompassing a wide range of emotions. For children who struggle to identify and understand non-verbal language, Smurks can be a great way to help them to consistently and accurately identify indicators such as facial expressions.
SEE.TOUCH.LEARN
See.Touch.Learn is another visual learning tool for the iPad that allows users to create image-based digital flashcards to review. Parents of children dealing with autism spectrum disorders can use the app to create their own custom visual flashcards and review material covering everything from social cues and body language to proper greetings and communication.
FINDME
One of the largest challenges for many young children with ASD is overcoming issues involving the disconnect between people and the surrounding social experience. Designed specifically for children with autism spectrum disorders, FindMe presents various scenarios in which users will have to find and point out a human cartoon character amidst various other distractions.
PUT IT AWAY
Children facing the challenges of ASD sometimes have trouble associating objects with their uses. Put It Away creates a visual guide to help children learn about the objects around them and organize them by use and purpose. Because of its customization ability, this app can serve as a visual 'map' of common household activities and help your child understand how he fits in to the day-to-day functioning of the house.