Math can be a tricky subject for many kids. Don't let the "Summer Slide" cause further complications within the subject. Help your child avoid any troublesome setbacks by introducing a light learning regimen over the Summer using our fun app and game recommendations and hands-on approach to learning.
Our Summer Math Guide offers activities, outdoor exercises and a curated batch of digital content sure to get even the math-o-phobic kids eager to learn.
Ready to begin?
Fill Your Digital Prescription!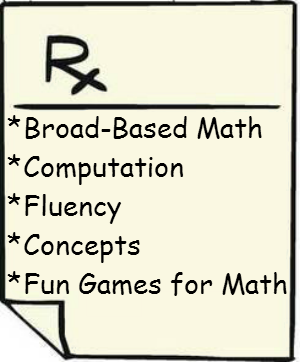 What's a "Digital Prescription?"
A Digital Prescription is a combination of apps and games that targets specific academic areas and cognitive concerns. Here, we focus on subjects of mathematics, such as computation, math fluency, and mathematical concepts.
How Does It Work?
While our prescription targets specific problem areas, we recommend all parents begin by choosing one broad-based education service to use over the entirety of the Summer. These apps and websites offer content ranging across a variety of math subjects and grade levels, making them a great foundation for fending off the "Summer Slide."
Once you've chosen your broad-based service, use a combination of apps and games from the remaining sections to build around 6-10 hours of weekly learning time. Look over our Mathematics page to decide the areas in which your child needs the most help (i.e., computation, fluency, concepts), and then follow each section's recommended "dosages" for help filling out your schedule. Consider using a calendar service such as iCal or Google Calendar to keep track of your weekly regimen. Remember, variety will keep things interesting, so try switching the focus between apps, games and subjects ever couple weeks or so.
And that's it! Get started now by browsing the apps and games below!
1.) BROAD-BASED MATH APPS & SERVICES:
Use one of the broad-based educational services listed below to maintain your child's math proficiency over the summer months. Each option offers powerful learning solutions in a fun, interactive manner, many with content in-line with states' core-curriculum standards. Read over each review to decide which one is the best fit for you and your family.
 BrainPOP / Jr.
  SmartTutor
An online learning service with games, lessons, activities and videos, and a "Jr." edition for younger children.
An intelligent online tutoring service that actually learns from user input, customizing lessons to target problem areas.                                                                                                                                        .
DreamBox Learning
  IXL Math
Dreambox offers users videos and hands-on activities covering content from Pre-K to Grade 6, with users earning badges for their accomplishments.
IXL offers a myriad of mathematical content, ordered like a textbook. It is meant to mesh with common core standards, and tracks user progress.
DOSAGE: After you've made your choice, schedule in some time for your child to dedicate to the service. We recommend 2-3 days a week, for 1-2 hours at a time. Remember to keep up to date with your child's progress using the built-in tools these services provide.
2.) COMPUTATION
Addition and subtraction are some of the earliest math computations kids will be working with, before moving on to more advanced computations involving multiplication and division. Below are some great app choices that get kids practicing basic math skills in fun, interactive ways, as well as good resources for a range of grade levels.
| | | | | |
| --- | --- | --- | --- | --- |
| Add 'em Up | Addimania | SumDog | Math.com | Your Teacher: Math |
DOSAGE: Use a combination of the apps above 3-4 times a week, in sessions lasting 45-60 minutes.
For young mathematicians, try Add 'em Up and Addimania, which offer fun games based on addition. Aim for your child to complete 5-10 levels a session, and keep track of high scores by posting them to the fridge.
SumDog offers more advanced math practice, beginning with simple areas like addition and eventually moving on to more advanced subjects. Pick the Math material most in line with your child's current level, working to complete it and get a leg up on upcoming material before Summer's end.
Math.com and the Your Teacher app offer content for an array of grade levels, and serve as great resources for help. Use them to review work and look up questions should your child get stuck, keeping them handy during study sessions.
3.) FLUENCY
Being able to understand how to compute numbers is only one side of the coin, as to be successfully in school and ultimately achieve mastery, students need to be able to complete computations with accuracy and efficiency. Use the apps and games below to help your child develop mathematical fluency.
| | | | | |
| --- | --- | --- | --- | --- |
| Number Tap | Math vs. Zombies | Sushi Monster | Mathmateer | Mathtopia |
DOSAGE: Use a combination of the apps above 3-4 times a week, in sessions lasting 45-60 minutes. Begin with material familiar to your child. The goal is to improve processing speed over the Summer, with your child able to complete more complicated challenges provided by the apps and games above.
4.) Concepts
For kids, conceptualizing mathematical problems isn't always easy, but in order to improve aptitude, finding interesting clear ways to present complex ideas is essential. Luckily, the apps and games we've recommended below do a great job at introducing core math concepts (like shapes and angles) and simplifying the trickier aspects of mathematics (like graphing and fractions).
| | | | | |
| --- | --- | --- | --- | --- |
| Play 123 | Slice It! | Oh No Fractions! | Graphs |   |
DOSAGE: Use a combination of the apps above 3-4 times a week, in sessions lasting 45-60 minutes.Try to find subject matter just beyond what your child already knows, as these apps do a great job of introducing new mathematical concepts.
5.) FUN GAMES FOR MATHEMATICS:
Throughout the course of the summer, use these games to engage your child in math concepts and computations in fun and unique ways. Make sure to read over the "Play Together " tab of each review and join in the fun when you can, and to read over each reviews academic section to learn how to best put the games below to work.
| | | | | |
| --- | --- | --- | --- | --- |
| Tiny Tower | Dungeon Village | Sims Free Play | Kingdom Rush |   |
DOSAGE: When a day's math session is complete, allow your child to play any of the above games for 1-2 hours as a reward. Make sure to read over each game's review by clicking the icon to see how math and numbers come into play. As always, play together, if possible!
Math Activities & Exercises for the Summer
Over the course of the summer, we'll also be updating this guide with new activities and exercises that get kids exercising both their minds and their bodies, with simple recommendations for fun activities that transform tech-time into learning opportunities. Get started by clicking the links below, and bookmark this page more in the coming weeks!
Summer Activities for Math: