Summer is a welcome break from the rigor of school for most kids. They might busy themselves with summer camps, vacations, adventures, free play, and time with family and friends. Although these activities are often framed as a break from learning, quite the opposite is true. In fact, different forms of play, especially free play, are great ways to promote learning and overall development. Even though summer is the perfect time for play, that doesn't mean that learning needs to be sacrificed. Unfortunately, research shows that children often experience a summer slump, returning to school in the fall with lower academic achievement levels than where they left off, and with worse outcomes for lower-income students. With the right foresight and preparation, this summer slump can be mitigated so that children can support learning year-round. One way to engage in summertime development is by focusing on executive functioning skills. 
Executive functioning skills are the foundation of academic success. They are the cognitive processes that deal with focus, organization, and time management. Strengthening the process of learning itself through executive functioning skills reinforces a child's overall academic abilities with longterm results. Even if they lose some factual information over the summer that they memorized for a quiz and quickly forgot, the skills of task initiation, time management, and organzation can support their potential to learn in all domains. 
In today's digital world, there are innumerable ways to combat the summer slump. Combining a variety of digital play with non-digital learning opportunities can keep kids engaged and learning while keeping the season still feeling like summer. Even children who don't like school still love to learn – it's just about meeting them where they are and finding the tools to learn that suit them best. The freedom of summer provides a great opportunity to fall in love with learning. For many kids, the games, TV shows, and online platforms that they already use can be framed as resources for encouraging both academic and executive functioning skills. 
According to current scientific research, incorporating nature-based practices had a significant positive impact on executive functioning levels. Across the board, being outdoors offers developmental benefits to children such as intelligence, creativity, social skills, physical health and well-being. Unstructured play in natural outdoor areas alone leads to irreplacable benefits. However, there are ways to integrate outdoor play with a more academic-style lens. A great resource to build upon knowledge outside is an app called iNaturalist. This app is a joint initiative between the National Geographic Society and the California Academy of the Sciences. Using the camera on a smartphone, users can record natural observations, share with fellow naturalists, and contribute their findings. A mix of scientific review and AI technology validate what species of tree, flower, bug, bird, or mushroom was spotted, and users can interact with each other and endorse identifications. It's a great way to learn about your local environment and contribute to science while engaged in playful curiousity about the outdoors. 
Another way to engage in learning is to get to know about a child's interests and to dive deep into them. Libraries have plenty of free resources about any conceivable topic at all reading levels. Additionally, finding documentaries to watch as a family can be both entertaining and educational. For example, if a child is interested in vehicles, grab a few books on engineering for kids from the library and put on a How It's Made documentary. Children who love dinosaurs may love a trip to the local natural history museum. 
Integrating interests, digital play, and traditional play all together has great benefits. One fun idea is to transform video game play into real life. The popular video game Minecraft, for instance, is a game of discovery and building. Encourage Minecraft-obsessed children to build a fort in the backyard! They will need to plan and prepare a place to build the fort, search for the materials necessary to construct it, find the right tools, do the measurements, and then finally engage in the construction itself. They can even prepare by building a model in Minecraft itself to practice. This can support great learning processes through applied work with an incredibly fun outcome that they can be proud of.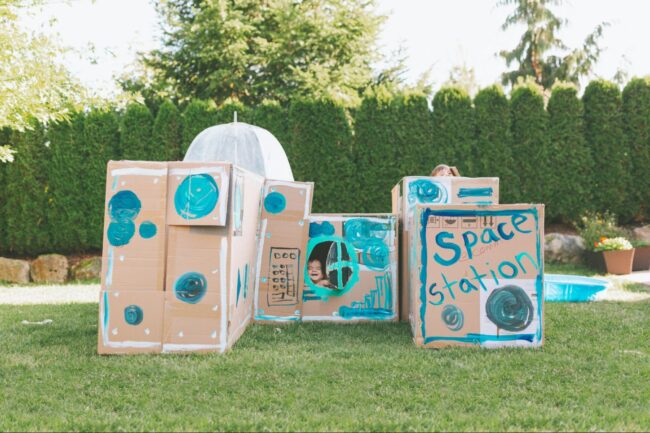 To keep those academic skills sharp, there are also countless apps that support kids' reading and math to use over the summer. Many of these are free or cost less than a dollar! The key is to find the right mixture of learning-based apps that work best for your kid, keeping them engaged, motivated, and happy. Our website offers executive functioning classes through popular video games, which are fun pathways to supporting the process of learning! For some more suggestions on apps and games that support reading, check out this list compiled by Commonsense Media here.