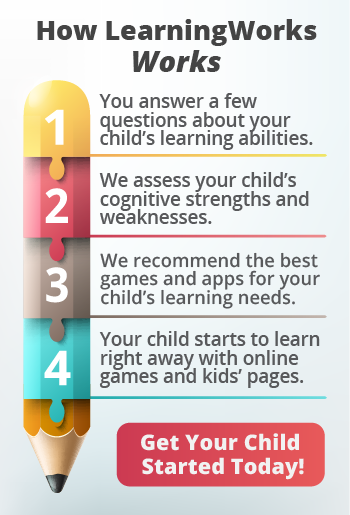 LearningWorks for Kids is introducing a suite of new premium features to our premier educational technology site for alternative learners. For the past year, our team has worked nonstop to create a new set of tools that furthers our mission to make children's game play into real-world learning. As with all of our work, these new features are guided by our belief that video games and apps, when used appropriately, can be powerful instruments for teaching children problem-solving, executive functioning, social, emotional, and academic skills.
Here's a peek at what we've built for you: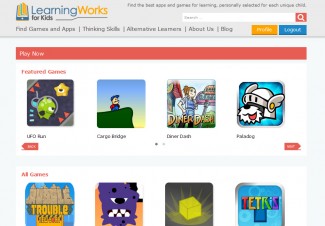 Play Nows – Our Play Now center features games kids can play without even leaving our site. They'll need to unlock these popular games by watching an entertaining 90-second "Let's Play" video that describes the executive functions they will use in the game and then completing a 3 question "quiz" that gets them thinking about their thinking. These metacognitive exercises will help kids turn their game-based learning into real-world learning.
Kids Pages – A personal profile will be generated for each child upon an assessment completed by a parent, teacher, or clinician. This personalized Kids Page will present them with specific games, apps, videos, and learning tools that address their individual needs. Best of all, the Kids Page is loaded with things kids actually enjoy, like Let's Play videos from YouTube, popular online games, and fun facts about training their brain.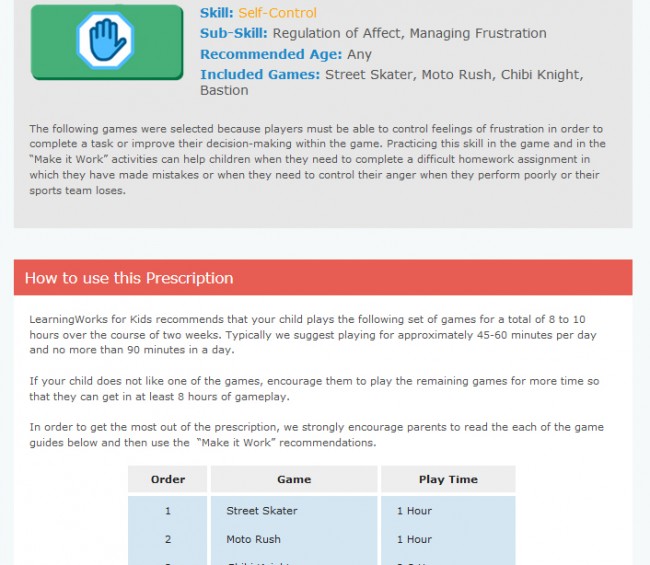 Prescriptions – We've carefully tailored combinations of select games into "prescriptions" intended to practice an area of need identified by parents, teachers, or clinicians. Each prescription includes instructions for a child on how to practice and think about executive functions and academics skills that they employ while playing these games.
In-Depth Assessment – Premium members complete our well researched Test of Executive and Academic Skills (TEAS) to determine a child's specific needs for intervention. The results of this assessment of a child's executive functioning and academic skills lead directly to the recommendations on the child's profile page and their custom Kids Page.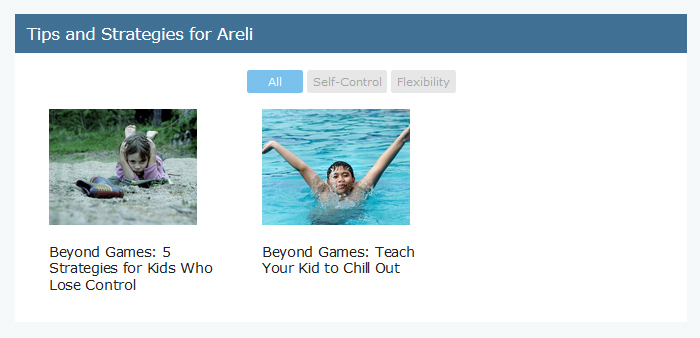 Tips and Strategies – Based upon the TEAS, Tips and Strategies are targeted to a child's specific areas of weakness. These are the types of clinical recommendations that parents and teachers receive after a $3000 – 4000 neuropsychological evaluation (though the TEAS is not necessarily intended as a substitute). These Tips and Strategies are comprised of activities, parenting strategies, and technologies to help children improve executive functions, problem-solving, and academic skills.
We're proud and excited to provide so many families and schools with our new premium services. Sign up, explore our features, and connect with us on Twitter or Facebook for news, resources, and updates on new additions to the LearningWorks for Kids site.