Executive functions are the chief operating skills based in our brain that are crucial for goal-oriented behavior. These functions include self awareness, attention, organization, planning, working memory, and flexibility. Every person has a different level of executive functioning skills, but children with ADHD, Autism Spectrum Disorder, and various learning disorders typically struggle more with executive dysfunction. Are these skills unchangeable? Not quite – in fact, discoveries in the field of neuroplasticity show that with training, executive functioning skills can improve as the brain reorganizes its pathways. 
Not sure which executive functions your child is struggling with? Have them take our Executive Skills Test here.
Although interesting advances in brain-training techniques have been developed, there are plenty of old-fashioned strategies that can support the improvement of executive functioning skills. Depending on the unique needs of each individual child, parents and educators can simply add some reflective strategies to the activities they're already doing.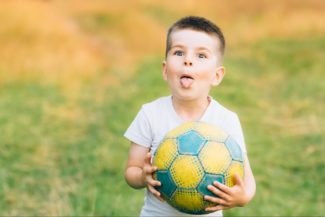 A Play Diet that includes team sports can be very helpful in improving executive functioning.
At LearningWorks for Kids, we are among the thought leaders in using video games and other screen-based technologies to improve executive functions in children with ADHD, autism, anxiety, and depression. However, because we also strongly support kids having a healthy and balanced Play Diet that include other activities, we are always examining methods to leverage kids' fun into opportunities for learning executive functions. 
Digital play is an important and effective way to grow and connect, but Big Body Play, or active play, is directly linked to cognitive development. As children interact with the physical world around them, they learn to reflect on their inner worlds as well.
Team sports are a highly effective physical outlet for improving executive functions. Children practice, develop, and build executive-functioning skills because these activities require communication, attention, awareness of others and oneself, and persistence. Competition at games and in practices challenges self-control skills in a safe environment. Additionally, coaches who understand how to implement strong executive-functioning skills can support children to set team goals, support and encourage teammates, and create a culture of hard work and persistence. This often has an outcome of success, camaraderie, and development across domains. Parents and coaches can reflect with their children on the executive functioning skills required in team sports and apply those lessons outside of the game across their lives.
Team sports can be helpful in developing many executive-functioning skills, including:
Focus – The executive-functioning skill of focus helps with task initiation, attention, and completion. Focus also involves the skill of task persistence, and children who want to improve in their sport can see the direct connection between effort, grit, and improvement. Kids who are focused model this trait for their teammates and demonstrate how attention to detail helps to improve their skills. With a growth mindset, children can practice the skill of focus to further improve at their sport while practicing their sport improves their focus. 
Self Awareness – The skill of self awareness involves understanding one's areas of strength and weakness as well as those of others. Playing on a team means being in communication with your teammates. Children will need to develop a sense of what they're working on improving as well as what they're good at to succeed on a team. For example, children who have a strong sense of self-awareness may let others take a shot at the end of a close basketball game because they realize they are not the best shooters. This humility is rewarded in a team sports setting. Even recent research in the field of neuroscience supports physical activity as building levels of self awareness.
Self Control – Self control allows us to regulate our emotions, reactions, and behaviors. In a competitive setting, tensions can sometimes run high. Playing in team sports are a great space for children to develop a stronger sense of self control in the face of anger, frustration, or gloating. Higher levels of self control mean that a player can keep their cool to focus on the rest of the game rather than become distracted by their emotions. Also, self control helps children recognize when to be more or less aggressive in play. Balancing physical and emotional energy throughout the length of a game can make a significant difference between winning or losing a match. This skill is developed through practice and reflection, and can be applied across all areas of life. 
Children can apply the lessons they learn in a team sports setting in school and at home as they grow.
The research supports it: team sports are great for getting kids who struggle with executive functions to practice these skills. The regularity and consistency of practice, the need to remember one's uniform and equipment, and the obligation to learn how to deal with teammates all provide a fantastic opportunity to practice these skills. With guidance from coaches and parents, kids can learn to identify when they are using their executive-functioning skills and how to reflect on how they help make them better teammates.
Interested in expanding your child's play diet to include more structured digital play? Check out our video game courses here!