How do executive functions impact academic performance?
Executive functioning skills are the basic processes that allow us to pay attention, remember information, prioritize, and create plans. Our brains support focus, filter out distractions, and use self-control with this set of skills! 
Contemporary times demand a high level of executive functioning, such as skills that involve thinking and working creatively and collaboratively. As children grow, they'll be asked to call upon these foundational abilities in a variety of scenarios. 
Children develop and strengthen executive functioning skills over time, like a muscle. Although each child will grow at their own unique rate, educators can support this growth in a classroom setting. Many compelling studies demonstrate that teaching executive functioning skills to preschool and elementary school students has a greater impact on long-term academic achievement than teaching specific academic skills. Highly applicable skills, such as self-management and planning, tend to have an effect across educational domains throughout a student's academic career. For example, working memory plays a significant role in math word problems, and organization is key to writing a coherent essay.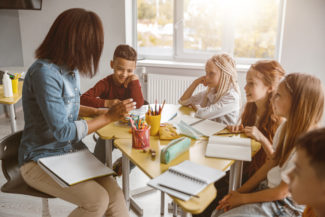 Here are a few examples of how executive functions impact specific academic skills:
Organization 
Composing ideas in a logical order
Creating transitions between paragraphs
Filtering out important content
Revising drafts
Managing homework assignments
Working Memory 
Juggle multiple ideas in mind at once
Balance big picture with minute details
Thinking about sentence that was just written while writing the next sentence
Apply present task to larger task
Keeping different steps to a math problem in mind
Recalling the correct formulas 
Keep different sounds of a word in mind while sounding it out
Self-Awareness 
Recognize how to think about the organization of content
Review and recognize what needs to be edited and corrected
Staying on task
Comparing present content to previous work
Planning 
Thinking ahead about what sort of problem needs to be solved
Arranging the options for solving math problems
Time management for larger assignments
Gathering resources to support work
Write down homework assignments
To learn more about how executive functioning skills are used across many other academic subjects check out our Educator Resource Guide.