If you are the parent or teacher of a capable but disorganized teenager it is probably worthwhile to devote some energy to improving their executive functions. Teens who struggle with executive functioning skills are often frustrated, work below their potential, and recognize that they could be happier and more successful- if only they could manage themselves better. It's easy to make the connection between weakness in executive functioning and study skills.
But it is not always as evident, particularly to teenagers, that better self-management can be crucial to achieving goals. One important step in improving executive functions in teenagers is to get them to acknowledge the issue and make them more responsible for change. A good first step would be to have your teenager read my book, Train Your Brain for Success: A Teenager's Guide to Executive Functions.
The basic premise of Train Your Brain for Success is that executive functioning skills, which are brain-based capacities for self-management and goal setting, are a core ingredient for effective study and personal growth skills. The book details dozens of specific study/executive functioning skills skills including organization, time management, and planning.
The book sets a foundation for your teen to improve their study skills. The ground rules:
It is important that the student sets the goal of improving their executive functioning and study skills
Having a "growth mindset"–believing these skills can improve and continuing to work on them–is the single most important ingredient for success
Skills require practice, and more is better in this instance
Your teen may read the entire book or just focus on chapters that suit their needs. Many of these helping tools involve the use of technologies that can help students in improving and supporting their study skills. Such technologies include speech recognition software, keyboarding skills, organizational apps, and productivity tools.
Here are the top three tips from Train Your Brain for Success : A Teenager's Guide to Executive Functions for paying attention and not getting distracted when studying?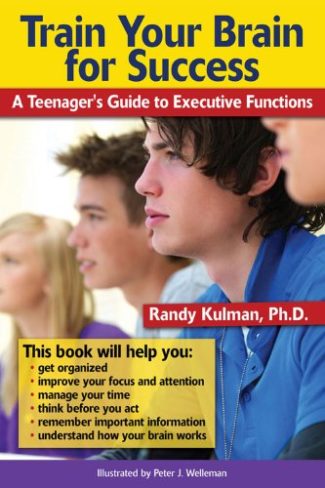 Exercise vigorously for 45-60 minutes sometime within 90 minutes prior to studying. There is compelling evidence that exercise produces brain-derived proteins that enhances attention and learning.
Find the best study environment for YOU! While the same setting will not always work, some teens need a totally quiet spot, while others need some background buzz. Try lying on the floor when reading or sitting on a barstool rather than a traditional chair.  Many students study better when moving, so see if you can walk around your room for some homework, or try doing your math while riding an exercise bike.
Ask your family to help you with building self-control. Ask them to be in charge of your cell phone for an hour, see if a parent will bring you a healthy snack, or set up a time towards the end of your studies where you can ask them for help on examples that you need some consultation.
Get Train Your Brain for Success: A Teenagers Guide to Executive Functions at Amazon.com
Featured image: Flickr user Beryl_snw