Reading may seem like the last thing your child wants to do during Summertime vacation. However, letting your child go the through the season without some sort of reading regimen can lead to some serious academic declines. Luckily, here at LearningWorks for Kids, we know how to make reading fun.
Our Summer Reading Guide offers hands-on activities, outdoor exercises and a curated batch of digital content sure to get even the most reluctant readers ready to learn.
Ready to begin?
Fill Your Digital Prescription!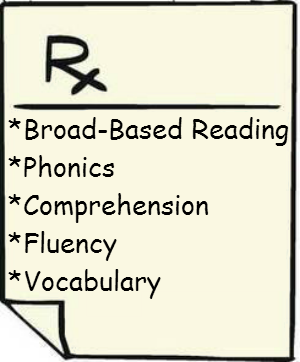 What's a "Digital Prescription?"
A Digital Prescription is a combination of apps and games that targets specific academic areas and cognitive concerns. In this prescription, we focus on subjects of reading, such as phonics, comprehension, fluency and vocabulary.
Where Do I Start?
While our prescription targets specific problem areas, we recommend all parents begin by choosing one broad-based education service to use over the entirety of the Summer. These apps and websites offer content covering a variety of reading levels, making them serve as a great foundation for fending off the "Summer Slide."
How Does It Work?
Once you've chosen your broad-based service, use a combination of apps and games from the remaining sections to build around 6-10 hours of weekly learning time. Look over our Reading page to decide the areas in which your child needs the most help (i.e., phonics, fluency, comprehension, or vocabulary), and then follow each section's recommended "dosages" for help filling out your schedule. Consider using a calendar service such as iCal or Google Calendar to keep track of your weekly regimen. Remember, variety will keep things interesting, and it's important to not overwhelm your child, so try to switch up apps, games and subjects every couple weeks.
And that's it! Get started now by browsing the apps and games below!
1.) BROAD-BASED READING APPS & SERVICES:
Maintain your child's reading level over the summer by using one of the broad-based educational services listed below. Each offers powerful learning solutions in a fun, interactive manner, many with content in-line with states' core-curriculum standards. Read over each review to decide which one is the best fit for you and your family.
 BrainPOP / Jr.
  SmartTutor
An online learning service with games, lessons, activities and videos, and a "Jr." edition for younger children.
An intelligent online tutoring service that actually learns from user input, customizing lessons to target problem areas.                                                                                                                                                       .
MimioReading
  MimioSprout
Unlike the above services, MimioReading focuses soley on reading. Keeps kids engaged with interactive lessons, and tracks progress with tests.
Mimio's reading application for younger children. Offers a similar approach to MimioReading, with content geared towards early learners.
DOSAGE: After you've made your choice, schedule in some time for your child to dedicate to the service. We recommend 2-3 days a week, for 1-2 hours at a time. Remember to keep up to date with your child's progress using the built-in tools these services provide.
2.) PHONICS & DECODING
Phonics and decoding skills are the building blocks of reading. Help your young learner connect sounds to letters, identify and differentiate between letters, and understand the different sounds and usages each letter can have usiong the apps below. Older children may find such material too rudimentary, but parents of early learners are highly advised to put some of the options below to use.
| | | | | |
| --- | --- | --- | --- | --- |
| Super Why! | MonkeyWord | iWrite Words | Letter School | Find the Letters |
DOSAGE: Use a combination of the apps above 3-4 times a week, in sessions lasting 30-60 minutes. Start with one of the simpler exercises, such as those found in Letter School, iWriteWords and Find the Letters. Then, move on to the more advanced training found in Super Why! and Monkey Word, or start with them if your child's learning level is beyond the simpler apps.
3.) READING COMPREHENSION: 
The e-Book services below allow you to browse a huge selection of books and literature, and then download them right to your handheld device. The huge collections of books makes it easy to find something to fit your child's interests, making these e-Book apps a great way to motivate reluctant readers.
Note that iBooks and Kindle are great for any age, while iStorybooks and PlayTales offer great options for young readers. Blio host a range of unique features, too, so be sure to click the icon and read the reviews before making your decision.
| | | | | |
| --- | --- | --- | --- | --- |
| iBooks | Kindle | Blio | iStoryBooks | Play Tales |
DOSAGE: Set aside 3-4 nights a week to read using one of these e-Book applications for around 30-60 minutes. The goal is to finish one book every couple weeks or so.
4.) READING FLUENCY:
Pick one of two of the two audiobook apps above (Audiobooks or Read Me Stories). The Audiobooks app features content for a wide range of ages, while Read Me Stories is geared more towards young children. Whichever you choose, make sure to also download the Scholastic Reading Timer app.
| | | | | |
| --- | --- | --- | --- | --- |
| |   Read Me Stories       | Timed Reader | |  Scholastic Timed Reader |
DOSAGE: During your child's e-book reading sessions, have your child follow along using an audio book version of the text once or twice a week. Doing so can make it easier to scan the text fluently.
Also set aside one night each week to "read" solely using one of these apps.
K-12 Timed Reader provides great practice for improving reading fluency and speed, so to use it at the end of each week to track progress and motivate your child to improve proficiency. It onl tracks text provided by the app, so towards the end of Summer, start using Scholastic Timed Reader to track how well your child reads text from the book he most recently has been reading.
5.) VOCABULARY:
A good vocabulary is the foundation of every good reader. However, using traditional means to expand vocabulary can be sometimes be viewed as time-consuming and dull for young readers. The selections above offers many fun options for bolstering an understanding of words and definitions, and are sure to get even the most reluctant readers ready to learn new words.
| | | | | |
| --- | --- | --- | --- | --- |
| Word Dynamo | Word Wizard | The Opposites | Endless Alphabet | Dictionary |
DOSAGE: Set aside 3-4 nights a week to practice vocabulary using one of the fun apps listed above. Make sure read each review to find which option is most in-line with your child's current ability and needs.
6.)FUN APPS & GAMES FOR READING:
Throughout the course of the summer, use these games and apps to engage your child in fun reading exercises. Try to play with your child, reading over the "Play Together " tab of each game review.
| | | | | |
| --- | --- | --- | --- | --- |
| Scribblenauts Remix | Ruzzle | Letris | Versu | Words With Friends |
DOSAGE: Let your child play Letris, Ruzzle or Words With Friends each time a weekly reading requirement is completed. Simply allow free play, allowing your child to play for about an hour or two as a reward. Again, play together if possible!
For Scribblenauts, we recommend your child completes the game in its entirety — a wholly doable task over the eniteirety of the Summer. The game is great for spelling and vocabulary, with top-notch gameplay sure to keep your kid hooked.
Versu is a little different. This app lets you directly influence the story by manipulating characters' actions. Depending on your child's age, you may have to guide the reading. If possible, though, allow your child to read through independently  Either way, your child should finish each story a few times, changing decisions to alter the outcome.
Activities & Exercises for the Summer Reading
Over the course of the summer, we'll also be updating this guide with new activities and exercises that put the apps and games listed above to good use — with a focus on being outdoors and active. Designed to get kids exercising both their minds and bodies, our simple recommendations will show you how to transform tech time into learning opportunities. Get started by trying some of the activities and exercises below, and bookmark this page more in the coming weeks!
Summer Activities for Reading: