FREE EBOOK: WHAT ARE EXECUTIVE FUNCTIONS?
 Learn about Executive Functions, and how you can help your child to improve them. 
Sign up for either a free or premium membership below, and we'll send you What are Executive Functions? and all of the rest of our ebooks too!
Our complete list of ebooks includes:
What are Executive Functions?
The Plugged in Parents' Guide to ADHD
The Plugged in Parents' Guide to Autism
Minecraft: Learning and Limits
The Best Games and Apps for Children with ADHD
What is Working Memory?
What is Self-Awareness?
What is Self-Control?
What is Flexibility?
What is Time Management?
What is Focus?
What is Planning?
What is Organization?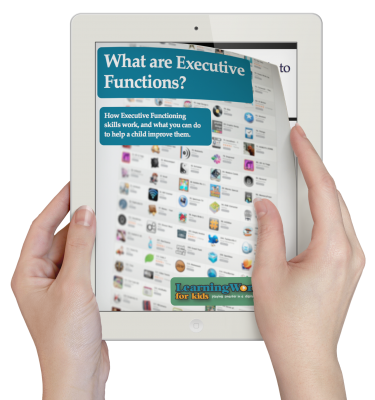 SELECT YOUR SUBSCRIPTION TO DOWNLOAD YOUR EBOOK
NOT SURE WHICH TO CHOOSE?
What People Are Saying About Us
Get Your Child Started Today!
Thousands of kids are benefiting from LearningWorks for Kids every day. In 60 seconds, yours can be too!