Developer Riot Games has implemented an ingenious solution to an issue which has plagued the online community in its popular online game League of Legends. The game — which involves players teaming up to capture and defend strategic points on a map — relies heavily on cooperative play and communication. Until recently, however, the community had become "toxic" and abusive, forcing many players to reluctantly move on.
Riot's solution? Disincentivize bad behavior. The ingenious solution, called Honor, was developed by a team of statisticians and social scientists, and seeks to sweeten the soured atmosphere of LoL's community. The update went live in October, and already players have been reporting a noticeable improvement in the community.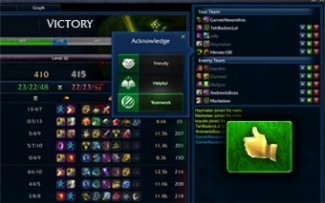 The Honor system empowers players to recognize and reward admirable behavior in teammates and adversaries in one of four categories: Helpful, Friendly, Teamwork, or Honorable Opponent. Riot explains:
Through Honor, you can acknowledge summoners [players] who helped make your game awesome by clicking on the 'thumbs up' icon next to the summoner name at the post-game lobby. You'll also receive Honor of your own when you impress your fellow summoners with your sportsmanship in the game.
The honor system is a significant shift away from Riot's previous solution, which involved reporting and punishing poorly behaving players. This time around, Riot's team has chosen to focus on the positives in the online community. On her "Geek Culture" blog The Mary Sue, Becky Chambers writes, "By putting the focus on reward, rather than punishment, Riot is placing themselves firmly in the corner of players who just want to have fun." Chambers likens online gaming to a party in which Riot is the host. It's up to the players to determine the mood, but Riot must be adamant about the kind of behavior they'd like to see. Chamber's continues "Reporting is a wrist slap. Honor is a fist bump. I know which one I'd prefer to get."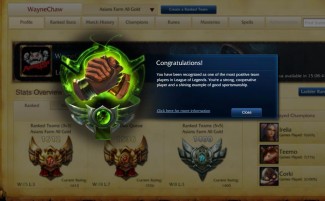 In our League of Legends PlayBook, we discuss the game's potential for practicing Self-Awareness skills like social thinking and cooperation. The honor system introduces a new and expanded opportunity for your child to exercise such skills; by rewarding teamwork and courteous play, players are encourage to display traits which the online community finds desirable. Learning the culture of the community by playing and socializing gives players an opportunity to assess the effects of their actions, both on teammates and adversaries.
To find out more about League of Legends and how it can help, make sure to read our full written PlayBook.
Source: The Mary Sue via BBC