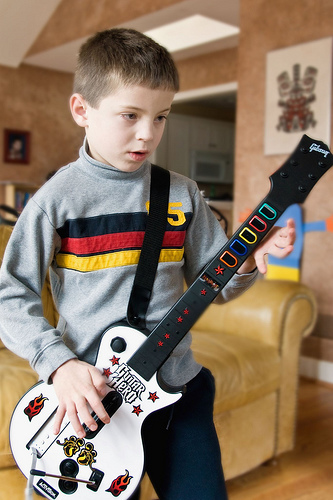 We did this research to help us learn about whether playing games such as Guitar Hero, Dance Dance Revolution, or Rock Band could help children to become faster and more efficient in their reading and written work at school.
Playing these types of games is somewhat like reading a book. Information scrolls down a screen, while you have to scan it visually and then do something with that information, whether that be dancing or playing an instrument. As the games become more difficult and complex, your brain needs to process this information more quickly and efficiently for you to be successful.
From previous research, we know that we can improve reading speed by how quickly words are presented to a student. We also know that repeated practice of video games can help gamers become faster at shifting their attention and improving reaction time and accuracy of attention, and can even help the elderly become better drivers by increasing awareness to one's environment. So, can playing video games make your child think faster?
The key to improvement in all these studies is repeated practice. There are many traditional ways to make modest improvements in processing speed, such as repeated practice of reading the same materials over and over, doing "math minutes", or challenging a child to complete written assignments faster through rewards. However, most of these strategies are boring and difficult to implement. Given how much fun it is to play Dance Dance Revolution, Guitar Hero, and Rock Band, there is a far greater chance that a child will put forth the effort to make these improvements. While our research is preliminary, previous studies indicate that Dance Dance Revolution can improve reading fluency and math calculation skills. Other studies indicate that Dance Dance Revolution is associated with higher levels of fluid intelligence, which is often an important component of processing efficiencies.
While our study was quite small, there is promise that these and other games that require rapid visual processing of information may lead to improvements in processing speed for children in other settings. One caution is that children who struggle in these areas in school may also find games such as Dance Dance Revolution, Rock Band, and Guitar Hero to be somewhat difficult for them. However, if they are given the opportunity to practice on their own and do not have unrealistic expectations about themselves, they are likely to show improvement, just because it's fun.