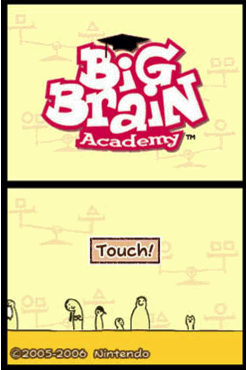 In conjunction with the University of Rhode Island, LearningWorks for Kids conducted research on brain training games labeled as being effective for improving brain functioning. We did this research to examine whether popular brain-training video games such as Brain Age and Big Brain Academy can help kids develop thinking skills. While millions of copies of these games have been sold (and promoted) for improving brain functions, research suggests only limited improvement. Most of the research has also been done with adults. Our intention was to determine whether these games could be helpful for children. We did this by prescribing intensive, repeated practice of selected game play that were hypothesized to lead to improvements in the skills of Time Management, Focus, Working Memory, and Planning.
Rather than simply suggesting to parents that they encourage their children to play Brain Age and Big Brain Academy, we gave directions about specific "mini-games" to play and how many times to play them. The children who followed the directions were told to play 15 different mini-games 3 times a day, 4 days a week. The research on brain training games lasted for 6 weeks, with the requirement that children play identified mini-games that practice thinking skills of Time Management, Focus, Working Memory, and Planning for approximately 4 hours per week.
In addition, we provided parents with information about thinking skills, and how to practice them in everyday situations in their homes. This provided the children with an opportunity for real-world practice of game-based thinking skills.
The participants were six children ages 8 to 11 diagnosed with Learning Disabilities and/or Attention Deficit/Hyperactivity Disorder. Neuropsychological test data including tests of the Wechsler Intelligence Scale for Children – IV, Process Assessment of the Learner Writing Speed Test, and the Test of Word Reading Efficiency were collected prior to and after the study. Parent rating forms, including the Behavior Rating Inventory of Executive Function and the Executive Skills Questionnaire were also completed prior to and after the study.
Our findings were mixed. On positive side, those families who followed our structure and regimen closely showed great improvement in the areas of Time Management and processing speed. We conducted pre- and post- neuropsychological and behavior measures to assess the children's progress during the course of the study that indicated improvements in math fluency and problem solving. Parents provided us with observations of their children becoming more persistent in practicing their musical instruments, consistently taking their schoolwork home from school, and displaying self-directed organizational skills such as packing their knapsack for a Boy Scout camping trip.
However, other families found it difficult to follow the structure and regimen of the study and as a result did not display the same types of improvement in thinking skills. These parents reported that it was difficult for them to get their children to play even these fun games in a structured pattern and also noted that they did not take the time to use our instructional and thinking-skills practice skills effectively with their children.
Overall, the study suggests that:
l. Repeated and intensive practice of thinking skills in games can lead to improvement in real-world thinking skills.
2. Parent participation to structure a child's involvement and to provide opportunities for practice is important for brain training games to promote real world skills.