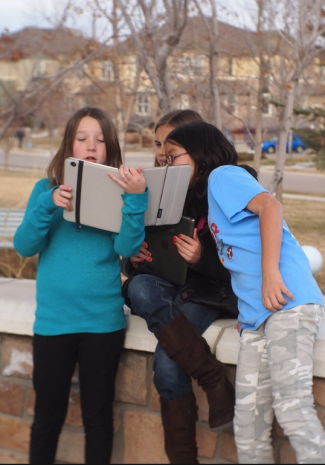 Starting out around the age of 6, children begin the process of choosing the type of play that they are most interested in rather than having it dictated to them by their parents. They are likely to have an opinion as to whether they would prefer playing baseball or soccer, or if they prefer games with clearly set rules or more open-ended creative and artistic type of play. Parents may even discover that they are no longer their child's favorite playmate.
A healthy play diet for 6-9 year olds involves lots of active play including bike riding, playing tag, organized sports, swimming, and simply being outdoors.  It involves time to engage in fantasy play and activities such as  building, construction, or designing things. A healthy play diet still includes a  great deal of creative and unstructured play that goes on between the ages of 6 and 9.  Playing with dolls, action figures, and the newest "cool" card game is likely to encourage imagination and story telling. Games and play become more social in nature, often involving sports related activities, joining an organization such as Girl Scouts, Boy Scouts, or 4H.
The eminent developmental psychologist Jean Piaget described play during this period as dominated by learning about games with rules. This period of a child's life coincides with a need to learn cultural rules as well. This includes the capacity to learn to line up, to transition from activity to activity in school, and how to play games with others. Children's play at this age teaches them not only about cooperation and collaboration, but competition and effort.
As a result, the most important types of play between the ages of 6 and 9 typically involve activities where one learns how to play "by the rules". This involves a fuller understanding of taking one's turn, learning how to be a gracious winner and a good loser, and figuring out that you don't want to play with everybody that you know. Today, children often practice these rules when playing video games.
Digital media also becomes a much more important and independent activity between the ages of 6 to 9. Not only do increasing numbers of 8 and 9 year olds own their own cell phones/smart phones, children at this age are beginning to learn what video games their friends like to play and asking their parents to let them do the same. Those kids who aren't walking around their own cell phone full of the latest apps and games are likely to have a hand-held gaming device with a variety of games. As the technologies improve, and games become easily downloadable, these games and apps will change with even greater frequency. As many of them are free or very low cost, parents are often willing to allow their children to access these new tools.
This increasing access to downloadable materials, presents one of the many dangers of the digital world to children between the ages of 6 and 9. These children simply do not have the capacity to make an independent judgement of what is appropriate, so it is imperative that parents are in control of any types of material that can be downloaded to digital devices or even available to the children via the Internet. In addition, teaching children about concerns related to digital predators, helping them understand commercialism, making judgments about what they read, and to inform their parents when they are inadvertently exposed to inappropriately violent, sexualized, or stereotypical images will be important. There is also the concern that many parents voice regarding their children's intense desire to play video games or expend their energies involved with digital media rather than engaged in other forms of play. Given that roughly half of children between the ages of 6 and 9 report playing video games at least an hour a day, this is unsurprising. Because there are so many potential opportunities for learning academic and thinking skills and developing a much broader knowledge about themselves and their world through digital media, we encourage parents to become involved with their children's engagement in digital media, rather than to restrict them from it.
Six to nine year olds can learn a number of valuable lessons simply while playing video games with their friends, siblings, or parents. They learn how to observe and encourage, how to teach and model activity, and how to acquire new knowledge, often at an accelerated rate due to their interest and motivation to play video games. When parents are involved, video game provides a great opportunity to learn how to talk about handling frustrations because in video games failure is an important part of the learning experience. Parents may also find that their 6 to 9 year old is actually better at many of the video games than they are so that it gives the child an opportunity to learn the role of being a teacher rather than a student.
The best types of video games for 6 to 9 year-olds to play are action, active, music, racing, and sports games. Games of these genres generally have age-appropriate content for 6 to 9 year-olds. In addition, many of these games facilitate learning through repetition and the complex thinking that is required for puzzle, simulation, and strategy games is often a secondary skill.
Another helpful strategy for selecting video games is to consider the Entertainment Software Rating Board (ESRB) ratings to find an appropriate video game or app for your child.  We recommend the Early Childhood (EC)  and the Everyone (E) ratings as generally appropriate for 6-9 year olds.  Some parents may feel comfortable in using the E10+ ratings, which may have higher levels of cartoon violence and "suggestive themes"  with their children, particularly if they are playing with them. We suggest that whenever possible you play the games or apps with your children to discuss any concerns and pay attention to your own set of values while recognizing your limits of "protecting" your child from the intrusions of the digital world.
Facility and interest with other digital media and tools becomes an increasingly important of the lives of children between the ages of 6 and 9. Children between the ages of 6 and 9 are just beginning to use word processing programs, calculators, and digital cameras. They are ready to use social networking that is monitored and has restricted interactions  such as ScuttlePad and Everloop.
The ages of 6 to 9 are also a time when increasing numbers of children are beginning to explore the Internet. Some may be simply going to a parent approved, age-appropriate social networking site. Others go to a favorite casual games site or specific websites that have interesting content for them in areas such as sports, nature, or a specific hobby. Increasingly, children between the ages of 6 and 9 do homework that may require using the Internet. Some of them are doing assignments online or conducting their own research via the Internet. We strongly encourage close parental supervision of online activities, and while parents do not need to be sitting over the child's shoulder at every moment, the computer should be in a public area, parents should check their child regularly, and appropriate Internet behavior and communication should be established before the child is allowed to use the Internet on their own.
For alternative learners, parents may choose to accelerate the use of video games and digital media to help compensate for areas where they have difficulties with academic or thinking skills.  For example, children who display very poor handwriting and become quickly frustrated with any type of writing tasks may benefit from putting their energies into learning early typing skills, rather than expending energy for modest improvements in handwriting. Children with attentional difficulties and working memory deficits may benefit from early interventions with playing video games that require sustained attention or by engaging in targeted programs such as Cogmed Working Memory training.
The incredible pace of change in the world of video games, apps, and digital tools and media make it impossible to have a static "best of" list of digital play for 6-9 years olds that won't be outdated in a  few months.  Instead , what we suggest you do is to click on the link at the bottom of the page to see our regularly updated features that gives you a "best of" list of digital play opportunities for 6-9 year olds.  You might even enjoy looking back into some of the older listings, as there are many great games and suggestions, that are simply no longer the "latest and greatest".